Flapper Dress: The Allure of Modern Fashion
The Flapper Dress: "Beauty is like balancing a diamond on a blade of grass"

What's so alluring about the flapper style?
From Nicole Kidman to Kate Moss, the flapper look is almost as popular today as it was in the 1920s.
Done wrong, the look can be just plain bad. . . done right it's sexy and unique. The style is naturally slimming - elongating your body and highlighting your best features.
With your bubbly personality, the right dress, beautiful shoes, a simple necklace, and some dangling earrings - will make you the most intriguing and elegant guest at any get together.
Let's make sure you get it right.
Modern 1920s Style Dress From Nordstrom
How to Distinguish Yourself in a Flapper Dress
From the hottest uptown nightclub, to this year's coolest party - beautiful dresses based on 1920s flapper fashion always make a statement.
Without flapper style this website wouldn't exist!

Timeless Modern Style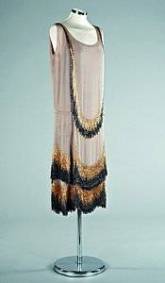 In the Twenties, fashion shifted away from the stodgy conservative styles.
Hemlines rose to the knee, and then above it - exposing the muscular dancer's legs - toned from dancing to the popular music of the 1920's - jazz.
The style allowed a beautiful young woman to dance; really express herself, while the dress exposed just enough skin (in just the right places) to attract the attention of the right boys.
Beautiful women still rock the flapper dress today. . . The dress lives on!
The beauty of the dress came not only from the garment itself, but the confidence of the woman wearing it. This was the era of the liberated woman after all. . . plus a woman's ability to accessorize using the beaded cool fashion jewelry of the 1920's.
With the great music came great dances like "The Charleston" and "The Lindy Hop". 
The Twenties style dress adds to the allure of a woman's body - her gorgeous dress, bobbed hair, sparkling jewelry, and toned limbs moving together to the rhythm of the music. 

Unsurpassed Beauty
You too can put together the perfect look for your next night on the town.
Whether dancing or dining (both hopefully) you will look great in a vintage flapper dress or a versatile modern flapper style dress from one of the great designers like Sue Wong or Max Azria.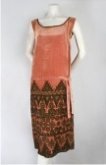 Want to make your own Twenties style dress? Check out our 1920s dress pattern tutorial!

---
Go to the top of this
Flapper Dress
Page Read much more about the
1920's
on our Homepage