How To Plan a Vintage 1920s Wedding
It's wedding season, many soon-to-be brides are looking for 1920s wedding ideas.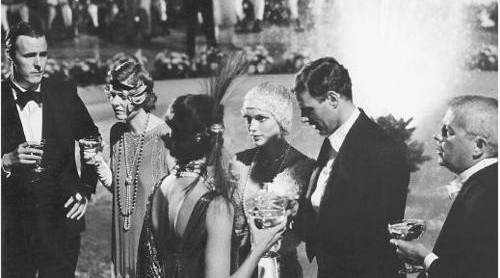 An Elegant Party Scene of the 1920s
This site wouldn't be complete without a how to guide on vintage themed weddings.
Every year people celebrate their union with elegant and gorgeous antique/vintage style celebrations.
The truth is, it's your day, a day you're going to remember for the rest of your life, so own it. Be creative and don't get stuck.
One of the toughest things you'll do to yourself is to become a slave to the theme. Have fun, be creative, pick and choose ideas and motifs from several time periods.
If you get the big details right for your Roaring '20s wedding, you can be free to have fun with the smaller details. 
Get A Swanky 1920s Wedding Dress
Whether you have the budget to have a custom reproduction gown made, or you are buying a vintage wedding dress off ebay. 

The #1 Rule: Be sure you're in love with your dress.
Shop around, use the web, ask your friends, ask relatives, you'll find the perfect gown for your special day. There are many vintage clothing shops, middle and high-end boutiques, and retailers online who specialize in flapper style wedding dresses and more elegant 1920s era gowns.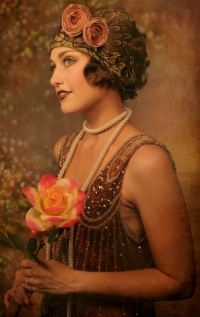 A Stunning Flapper Style Wedding Dress
There is a huge misconception about hosting a vintage style wedding, you don't have to be rich. You can often find a vintage dress for less than $500. Or you can have a gown custom made and tailored for less than $1000. 

Vintage Wedding Invitations
One of the most overlooked yet important aspects of The Roaring 20's motif is the look and feel of the lettering design and advertisements.
Shoot for an Art Deco look, it's recognizable, classy, and customizable.
The 1920s is whimsical, classic, romantic, simple and stylish. You can look to books, magazines, movies and advertisements for ideas to design the perfect vintage wedding invitations.

If you get this look right on your bridal shower, dress rehearsal, and wedding invitations you're one step closer to the goal.
Typical colors are silver, gold, fawn, parchment and ivory with splashes of rich dark primary colors for emphasis.
If you're going to pull off a 1920s wedding theme you have to get people excited about attending, get them excited about dressing up. Give them ideas, give them places to go online for inspiration (this website?) 

Sample 1920s Invitations
Having the right custom invitations made for your special day is one of the most important aspects, setting the tone for everything that comes after. There are several quality companies online, or you might have a designer close to home you can work with.
One of the best online resources is zazzle.com, they give you an almost endless supply of templates to work with to design and customize the perfect invitations and/or signs for your wedding.
Make sure you have a "Password" for entrance into your speakeasy.

Party Favors
How do you entertain 200 people? First you've got to recognize, you can't please everyone. Some people will be into the theme and ready to cut loose, others will be uptight.
Do your best to make everyone at home, but remember you're there to have fun. That's why it's a 1920s wedding.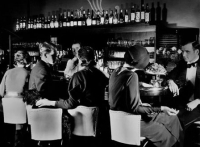 Booze: The #1 1920s Party Favor
Some great wedding favors would be cheap liquor flasks on the tables, decks of cards, poker chips.
Feather boas, cloche hats and cigarette holders for the ladies. Fedoras and bow ties for the guys.
Set up a station where people can be photographed, and ask them to email or text you their photographs. Give people disposable cameras to snap photos of themselves.
The trick is to get people involved and feeling comfortable, the liquor helps.

---