Vintage Hollywood in the 1920s: If You Build It They Will Come 
From Sunset Boulevard to Grauman's Chinese Theater, Hollywood in the 1920s was a vintage spectacle not to be missed. 

"Welcome To Hollywood!" Norma Sherer Welcomes You
From the beautiful and handsome leading ladies and gentlemen, Hollywood was an ever widening hub of celebrity, debauchery and decadence in the Roaring Twenties.
It was both a town of wealth and glamor and a seedy place where brothels posed as fake acting schools and sucked in attractive young girls who traveled to California with dreams of stardom and fortune in their eyes.

Hollywood Blvd. - The Original Boulevard of Broken Dreams 
Very few wanna-be actors and actresses "made" the silver screen, others were plucked off by 9 to 5 jobs, some became prostitutes, others just lived their lives waiting for the call from general casting. Hollywood Boulevard was lit up, as always. The Hollywoodland sign was lit up to announce right where to go, Sid Grauman converted an Chinese Temple into a glittering shrine to the opulence of 1920s Hollywood. It was an elegant facade covering the seedy underbelly of a town that chewed people up and spit them out.

Grauman's Chinese Theater: A Hollywood Landmark
On the outside, Hollywood in the 1920s was "the style capital of the world' as one advertisement proclaimed. From Sunset to Hollywood Boulevard an entire flock of ultra-rich had taken over.
The movie business had taken over Hollywood. 

American Ambitions: The Rise of Movies (The Early Years)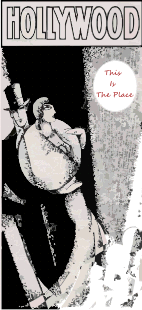 Vintage Hollywood Style
In the early 1910s, native residents of Hollywood despised the movie makers because they brought their East Coast habits and customs with them. Hollywood was a sleepy farm town until movie makers like Cecille B. Demille, Jesse Laskey, L.L. Burns and Harry Revier started leasing portions of peoples' orchards to run their movie production companies.
Not everyone was happy about all the development, the local resident decried movies for sending "girls to hell as fast as can the German conquerors." Even before prohibition was passed, cigarettes, cigars and alcohol were all "banned" from studio lots (though this rule was not enforced), and Hollywood Boulevard had a strict 10:30 curfew.

Development: Movies Bring Hotels, Shops & Theatres
Before Beverly Hills became famous for Rodeo Drive, Hollywood Boulevard was the place to be seen in Los Angeles. As the 1920s progressed it was full of cars, celebrities, clothing shops, restaurants, hotels and theaters.
C.E Toberman (i.e. Mr. Hollywood) was the man responsible for developing the town in the late teens and early twenties, turning it from an fig and citrus orchard into the bustling hub of stardom of the 20th Century.
In the early years Hollywood was still just a hick town, after World War 1 developers moved in and built many apartment complexes, clothing shops were opened. Los Angeles became a melting pot for Japanese immigrants looking to make it in the new world. 

Restaurants blossomed, famous places like the Armstrong & Carlton Cafe (referred to as "The Blue Front"), Frank's Francois Cafe were the joints to go see the stars eating a sandwich or drinking a glass of milk.
Hotels popped up all over, from Santa Monica Boulevard to Van Ness Ave. many businesses capitalized on the "Hollywood" name.
Jack Waner said that New York had gone Hollywood,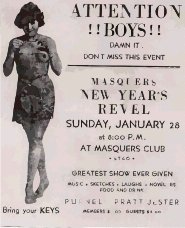 Everything Was For Sale in Hollywood, It Seems (1920s Advertisement)
"Along with the fast-buck characters from everywhere, the con artists, the real estate chiselers, soda jerks, writers who never wrote, call girls with agents, hoodlums, gamblers, and touts."
-Jack Waner
Going Hollywood: Stardom & Prosperity in the 1920s 
By mid-decade, there were several large production companies vying for control of Hollywood in the 1920s. Famous Players-Laskey (which became Paramount Pictures) and Metropolitan Pictures (later Metro-Goldwyn-Mayer) were the largest players in the Valley.
They began hiring actors like Douglas Fairbanks, Gloria Swanson, Mae Murray, Pola Negri, Mary Pickford and Rudolph Valentino for large sums of money to come play in risque pictures like "The Call of the Flesh" and "The Barber of Seville".
Fairbanks' check for $100,000 was proudly displayed on a window of a downtown shop. Many made it, and many more starved. It's predicted that in 1920 over 3,000 aspiring actors and actresses were out of work. 

The Stars of Hollywood in the 1920s
America loved the movies.
They couldn't get enough of the beauty and elegance of the leading ladies and the handsome actors. All of this belied America's lust for sex, sex, and more sex.
Jack Warner said,
"There were indoor sports in some of the movie mansions that would have felled whole platoons of PTA mothers." 
-Jack Warner
The movies sold sex, and some of the sexiest stars:

Hollywood in the 1920s: Leading Actresses
Gloria Swanson
Mary Pickford
Agnes Ayres
Coleen Moore
Myrna Loy
Clara Bow
Norma Shearer
Hollywood in the 1920s: Leading Men
Gary Cooper
Rudolph Valentino
Douglas Fairbanks
Al Jolson
Charlie Chaplin
The Crash of 1929 Hits Hollywood Hard
In less than 30 years Cahuenga Valley had turned from an orchard into bustling mass of excitement, money, debauchery, and broken dreams.
But the good times could not last forever, and many investors in Hollywood lost the shirt off their backs when the stockmarket crashed on October 21, 1929. This coincided with the end of the "Silent Era" of film-making and served as the death-blow for many actors and actresses who couldn't make the transition to the "talkies."
This is the story told in later movies like "Sunset Boulevard" which stars an aged Gloria Swanson as Norma Desmond, looking to regain the glory years of early Hollywood in the 1920s.
All right, Mr. DeMille, I'm ready for my close-up. 

"Sunset Boulevard": The Story of Post-Hollywood in the 1920s
---