About Me & How This Website Came to Be 
My name is Jesse. I live in Lincoln, a small city north of Sacramento in Northern California. I write for a living.
Some of my friends envy my lifestyle and most of them are confused by what (exactly) I do.
When I tell them I write about 1920s fashion and music the usual response is, "Who pays you to do that?"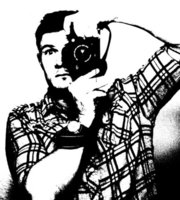 This website pays my bills. . . this page explains how. 

Everyday Misery
I've always wanted to be a writer. It always seemed like the perfect life. Get up, make coffee, sit at your desk, and write stuff down.
Life has a way of getting in the way of our best laid plans. I fell in love, I got married young, had a kid, went to college, got a good paying job.
I was nowhere near being a writer, I had too much responsibility (and too many bills). In many ways I was probably much like you.
I was working 16 hour days as a firefighter, away from home for three week stretches simply earning a paycheck.
The money was decent, but I didn't quite feel fulfilled in my life. Maybe you can relate? Time passed quickly.
My family was growing up, my son started kindergarten, then first grade, then second grade. . . I missed his first day of school every year. Because I was at work.
Nevertheless I continued working in that job, until one day I fell and broke my back while working on a fire.
It felt like the wheels were coming off my life. 

A Life Crisis
I was the sole provider for our family.
When I got hurt, the money slowed down to a trickle and I saw the dangerous financial position my family was in. Studies have shown that most U.S. families are a $2000 emergency away from financial ruin.
I didn't enjoy my job, and now my body had failed me and I couldn't work. After several months of physical therapy I healed enough to go back to my job, but my heart was no longer in it.
I really needed a change.
I wished for something different from my life. I wanted to be at home with my son more. Because I was always working, I'd missed most of the major milestones in his life.
But, it scared me to think about leaving the only source of income I could count on. Though I desperately wanted to switch careers, I was paralyzed by the fear of change.
I changed nothing.
Things got bad at home. After another year, my wife left because I was never home. She took my son and filed for divorce.
Again, I felt helpless and alone.
My life was empty. Without my family, all the hard work, the months spent away from home, seemed totally pointless.

I Kept Working
Though my life was in shambles, I told myself the bills still needed to be paid. In reality, I knew no other way to deal with problems other than to work.
I did this for 2 more years.
Then I Got An Answer
I needed more from life.
I started looking for creative outlets to blow off some steam. I loved to write. I searched the internet for writing jobs and came across this electronic "book", written by an M.D. who owned an online business.
A business wasn't really what I was looking for, but the e-book was free, so I downloaded it and read a few pages.
Ken, the doctor seemed to know what he was talking about. He explained how most people had areas of knowledge they could provide information about, they could use this information to earn a little extra money or even create a full-time income.
This idea seemed interesting.
I was curious but not convinced. I didn't understand how posting something on the Internet could make me money. Anybody can publish something on the Internet, right?
Then I saw The Godfather Part II on T.V. late one night. I was intrigued by the vintage clothes they used in the filming of that movie, the rich details, the style, the elegance, the attention to detail.
I started paying attention to everything related to the 1920s. Clothes designers, musicians, celebrities, athletes. . . even today people talk about "The Flappers" with an air of reverence. I realized I knew a lot about the era, and I figured what I didn't know I could look up.
And I remembered the e-book by Dr. Ken saying you could turn your random knowledge into a online business.
At that moment, I decided I was really going to look deeper. 

And since that day in 2007 I've never looked back 

I knew less than nothing about building a website. SBI! (Solo Build It!) told me that was okay, all I needed was Brain and Motivation (BAM).
The only thing I knew was I was motivated.
I built this website using SBI! because after a ton of research I found it was the only product that takes the time to prepare you to build a profitable business.
I had been an employee for many years, I knew nothing about running my own business. They taught me everything.
I researched the 1920s using the tools they provide to create the perfect niche for my website. They even show you how to make the most money with whatever topic you choose, almost any topic you're interested in can be profitable.
The most important part for me was that it's totally risk free, to try out. SBI has a money back guarantee. If you find you don't have the time to make it work for you, you get your money back, no questions asked.
The system ensures you succeed. Take a few minutes and watch the video tour.
Think you can't do it? Think again. Thousands of people have been successful building their own sites, here are a few case studies of people much like you.
"You will not do incredible things without an incredible dream."
-John Eliot
In 4 years this website has gone from nothing to the top 1% of the most popular websites in the world. I get paid to write.
No, this website isn't the Great American Novel, but it is my own creation which pays my bills.
Today I get to do what I love. Check out the SBI! order page, read the money back guarantee.
But only order if you have a burning desire to change your life too.
All the best, Jesse P.S.
Thank you to all my readers and the students who find this site helpful, for the letters of encouragement and thanks. 

---