Celebrate the 1920s With Your Own Flapper Dress Pattern 
The greatest thing about the flapper dress pattern is it's simplicity. 
As legend has it, the flapper silhouette was invented by Coco Chanel while she was vacationing in Deuville, France.
One chilly morning she woke up and slipped into her lover's large sweater and simply tied the waist with a handkerchief.
At that moment the flapper dress was born. When Chanel went out in public people reacted to the great dress she was wearing, and by the end of the day she had sold 10 of these new frocks.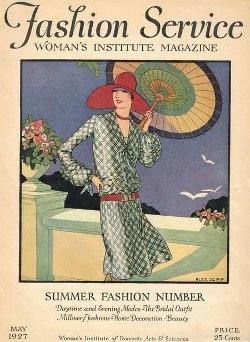 The Flapper Dress Featured By The Women's Institute
The Beauty of Simplicity
In 1923 the Women's Institute published the book, "How to Make a Dress In An Hour."
This manual followed how Mary Louise Picken constructed a dress, from scratch, in less than one hour.
The simple lines of the flapper dress pattern allow even inexperienced seamstresses to construct an outfit that is perfect for a night out. 

The Satisfaction of Making Your Own Clothes
As many creative people know there's a certain satisfaction that comes from making your own clothes and having people come up and ask, "where did you get that dress?"
The flapper dress pattern is the perfect dress to start with because it is so versatile.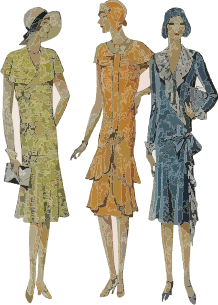 Three Patterns of 1920s Flapper Dresses
You can sew the dress following the pattern exactly, or you can stretch your wings and give it a unique twist, just for you.
Because the flapper dress can be made in so many different fabrics, you can start with cheap cotton to perfect your flapper dress first, then once you have it down, make your dress in whatever fabric you want.
Typical flapper dresses in the 1920s were made from everything from cotton burlap to the finest silks.
It's a good idea to have several different types of materials on-hand to choose from once you have mastered the pattern of your flapper dress.
A Dress For Any Occasion
This is a great vintage sewing pattern, whether you're making a dress for a special event, like a vintage 1920s wedding, a Halloween costume party, or you just like to maintain a little bit of a retro dress code in your life.
Because of the simplicity of the pattern, much of the dress's personality is going to have to come from you. You'll have to choose the cloth carefully, decorate or embroider the fabric tastefully, and choose your accessories wisely to come up with an outfit that reflects your good taste and vibrant nature. 

The Flapper Silhouette
The Inspiration is Easy
Just look at the flapper dress patterns of the 1920s, if you get stuck, there are thousands of 1920s fashion pictures and blogs on the internet to lend inspiration to your next sewing project.
If you're just getting started sewing and you're looking for an easy to follow guide, look no further than this one hour flapper dress pattern. It will guide you from start to finish.
For more experienced seamstresses, ebay is a great place to find patterns from the 1920s, there are many quality reproduction patterns available at a very decent price.
Sometimes you can pick them up for just pennies.

---