Thom Browne Suits: Avant Garde Styles With a Traditional Edge
Thom Browne suits are often described as "Radically shrunken meticulously tailored, take on the staples of a man's wardrobe."

Browne's ReMix of the 1920s Jazz Suit
1920s men's fashion has shown the recurrence of themes and styles throughout the 20th and 21st Centuries. One of the first things you'll notice about Browne's clothes is the small size and the impeccable tailoring of his suits.
His clothes are a throwback to the roots of men's fashion. . . reflecting an era of perfect tailoring; Westminster's Savile Row, an American aesthetic that's long since passed. 

Thom Browne Suits have a Distinctly "American" Aesthetic
Thome Browne Suits reflect the traditional shapes of menswear: structured jackets and perfect details.
For the discerning man who wants a vintage look reminiscent of the 1920s, with a modern twist Thom Browne suits, shirts, and ties are a perfect match.
Browne has won several awards since he opened his clothing line in 2001, like being named the 2008 Designer of the Year by Esquire Magazine.
Browne's ideas about men's fashion parallel closely those of the early 1920s. He has expressed that men in today's world wear their clothes too big and afraid to stand out. While he makes no direct correlation between his suits and the slim and short Jazz Suit of the 1920s the influence is obvious.
He Rewards a Stylish Man's Eye For Quality and Detail

Seeing Thom Browne's keen eye for detail and tradition, American suit maker Brooks Brothers, employed him to become the first "visiting" designer to develop a clothing line under the Brooks Bros brand. The "Black Fleece" label is certainly more conservative than Browne's typical avant garde clothes, but the line has remained one of Brooks Bros. most popular clothing lines.
Thom Browne's clothes it seems are on the cutting edge of modern fashion because of the fact they are based on a timeless aesthetic of workmanship and fit.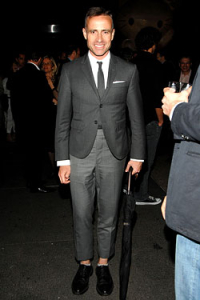 A Slim Suit, with every detail accounted for
It is a close return to the Jazz Suit of the 1920s, with it's short slim-fitting sleeves and trousers.
Typically the Jazz Suit was hemmed high on the ankle, and then cuffed. Browne's suits are not cuffed, but are meant to be worn with an exposed "raw" ankle.
The Jazz Suit existed in sharp contrast to the 1920s' "Oxford Suit" or "Oxford Bags," with their full almost balloon-like pant legs, and voluminous tuxedo-like coat. The Oxford was the prototype of the Zoot Suit. 

---