Josephine Baker in the 1920s
It's been said that every black artist wanted to work in Harlem in the 1920's. Josephine Baker was no exception. 

Born in St. Louis in 1906, Ms. Baker was 15 when the "roaring Twenties" began. But she had been an entertainer her whole life.
By the time she was 19 she had crossed the Atlantic Ocean and landed in France a new woman. She was asked once how she became a dancer: "Because I was born in a cold city, because I felt cold throughout my childhood, because I always wanted to dance on stage."
Josephine Baker was hot in the 1920s.
But when she traveled to Harlem to make her big break she was called "too ugly, too thin, too dark" by Sissle and Blake when she auditioned for their stage show, "Shuffle Along". Because of her persistence and talent, by 1921 she was the featured performer in that same show, with her "outlandish" dance performances.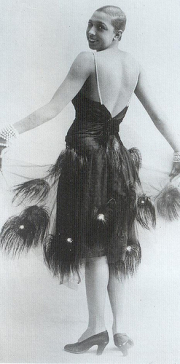 Born With Less Than Nothing, Baker Became the Most Famous Woman in the World
What Was Noticeable Was, Baker Was Different
If you look at the early photos you're probably struck by struck by one thing. . . her eyes are always crossed as she plays to the camera.
This "goofy" persona she adopted in the early days, got Josephine the nickname "ragamuffin". But this description ignores her elegance, the litheness and beautiful way she moved around the stage.
Elizabeth Welch said:
"She had a black sealskin coat, I don't know if it was real, but when she wore it, it looked real, she would take a piece of silk and tie it around her head, and even then she looked like some oriental empress."
-Elizabeth Welch
By 1924 Josephine Baker was earning $125 a week and was the highest paid chorus girl in the world. But she disliked living in segregated America with it's bigoted and racist attitudes.

The Charleston: Baker's Calling Card
Josephine Baker Redefined what was beautiful and sexy in the 1920's
If people know Ms. Baker for anything in the 1920s it's for the perfect way she did the Charleston Dance.
e.e. Cummings wrote of Baker's performance in the stage show, "Chocolate Dandies": 

"She resembled some tall, vital, incomparably fluid nightmare which crossed its eyes and warped its limbs in a purely-unearthy manner – some vision which opened new avenues of fear, which suggested nothing but itself and which, consequently, was strictly aesthetic."
- E.E. Cummings Chocolate Dandies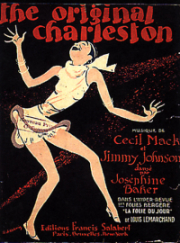 Doing the Charleston
Cummings words are both complementary and racist. He basically calls Josephine's performance the perfect portrayal of animal and devil without any true humanity.
Not only was Josephine Baker an icon of the Jazz Age and the first African American to star in a major motion picture, she was also an activist for The Civil Rights Movement and a member of the resistance during the German occupation of France during the war, even serving in the Red Cross.
It was in 1925 that she moved from New York City to Paris, and in 1926 and 1927, she stunned with her most memorable ensemble in the famed Paris revues: her full costume consisted of a skirt made of 17 beaded bananas, her wrists and ankles accentuated with cuffs, dangling earrings, and a long string of pearls.
Her danse sauvage captivated audiences across Paris, and though the war put a halt to her blossoming career, she will always be remembered as one of the most famous music hall and variety show performers of the 1920's.

Josephine Leaves America for Paris
In 1925, after "Chocolate Dandies" dropped the curtain for the last time, she was offered $250 a week to leave the United States for Paris, France.
She left to become a real star. She disliked the attitudes of America. The history books often forget that the height of the "roaring Twenties" was segregated and bigoted. France was a different story.
She could become herself there, in an unsegregated environment for the first time in her life.

She blossomed with the friendlier and more accepting nature of the European people, and the fact she could go where she wanted, when she wanted without fear of derision and hatred.
Money obviously was no object. By the time she left France in 1935 she was making $1,500 a week, a huge sum in the 1920s and 1930s.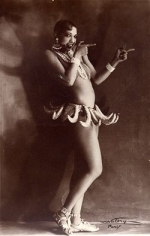 In her signature Banana Dress
Baker Redefined What We Consider Beautiful and Continues to Influence Fashion Today
In America she'd been treated as a ragamuffin, an animal, and a wild spectacle. In France Josephine Baker explored her sensual side and became one of the world's first "sex symbols."
Considering the time period this was occurring in, this holds a lot of significance for women of color finally being considered to be more equal to a white woman (not that either position was terribly desirable.)
She became a symbol of beauty and sexuality after she began to pose and perform her stage shows nude. After some discomfort she willingly accepted this new role performing exotic and erotic dance.

---
Go to the top of this Josephine Baker Page
Read much more about the 1920's on our Homepage