The Lasting Style of Coco Chanel's Designs
Coco Chanel designs revolutionized fashion in the 1920s, and remain the bleeding edge of fashion today! 

With their stripped down lines, vibrant use of color and texture, addition of hats and scarves for visual interest Chanel's designs were a popular addition to the world of 1920s fashion.
Madge Garland, an outspoken fashion critic in the 1920s, wrote, "The whole position of women in Western civilization, is her struggle for equality and her success, is reflected in the garments she has worn."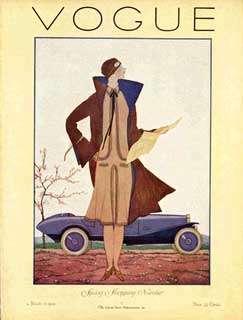 Chanel Designs on the Cover of Vogue
Garland is probably minimizing the important role of women in the history books, but the fact remains, fashion plays a large role in determining whom the history books write about.

The Reinvention of Women's Suits
If there is a single design Chanel is famous for it is her signature suit. Featuring straight lines, a boxy collarless jacket, paired with a matching skirt.
Chanel's designs were simple and understated for a reason. Not only did the minimalized style speak for itself with it's vibrant colors and exotic fabrics, but the designs lent themselves to accessorizing. 

Chanel Accessories
Chanel designed accessories that complemented her clothes. These bracelets, necklaces, watches, earrings, and rings would become a trademark of the Coco Chanel Design house. With her "illusion jewelry" in the 1920s Chanel set herself apart from the other designers.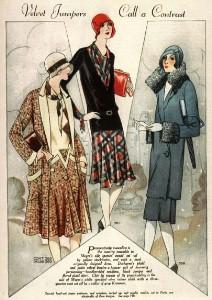 Designs From 1928 Catalog
Chanel's jewelry complemented her clothes. Sometimes the jewelry would just be a simple strand of pearls, at other times she would design a gaudy, "costume" look contrasting the simple lines of her suits. Chanel also designed brooches, lapel pins, shoes and hats to wear in addition to her clothes.
Many of these designs were inspire by the Cubist and African art that was popular in 1920s France. 

Sportswear
Chanel also designed many types of sportswear in the 1920s. She spent some time in the French Riviera, afterward she designed clothes meant to be worn in times of leisure, such as on vacation, or when getting some sun.
During this period, Coco Chanel designs pants made for lounging on the beach, she called them "beach pajamas," which would later be called "bell-bottoms."
Chanel designed leisurewear specifically for an active lifestyle of playing tennis and golf. These were comfortable elegant clothes, like pleated tennis skirts which can still be found today. 

Hats
Another keystone of the 1920s look, the cloche hat was popularized during this time. Many of drawings and sketches of Coco Chanel designs featured women wearing a beautiful cloche hat.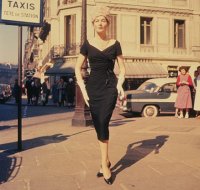 Chanel's "Little Black Dress"
Handbags
Another result of stripped down 1920s fashion was the prominence of handbags which appeared more and more as the pockets on women's dresses disappeared.
Plus women were carrying more stuff: lipstick, powder, cigarettes, flasks of whisky, etc. Chanel had knockoff purses being sold in the magazines and catalogs for 15 or 16 dollars.
Coco Chanel designs took center stage in the 1920s. Her design company still thrives today due to the ingenuity, business sense, and great fashion design of one of the legends of fashion.
Visit Decolish, for more great info on Coco Chanel 

---