The Scandals of "Satan's Circus" - 1920s Broadway 
1920s Broadway plays were mainly chorus line spectacles like the Ziegfeld Follies or George White's "Scandals". 
Broadway defined America's insatiable desire for "more" of everything. People could not get enough of anything, including alcohol, women, music, cars....
The perception of Broadway Shows from their early years to their current level of sophistication and glamour is different. The early years of Broadway were an exciting and naive time of American self-discovery, scientific exploration, and profound decadence. Everything was new!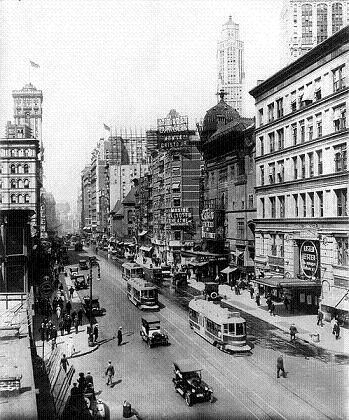 The Dutch called this area of New York Breede Wegh (Broad Way), the main thoroughfare for "New Amsterdam" in colonial America. 
The Dutch called this area of New York Breede Wegh (Broad Way), the main thoroughfare for "New Amsterdam" in colonial America.
Through the years "Big Street", as it was also known, acquired many colorful names many of which marked certain sections of the street: the 42nd street intersection is known tto locals as "the duece".
"The Great White Way" was named for the plethora of lighted billboards and neon lights surrounding Union Square.
New York's Dirty Underbelly: Satan's Circus
Throughout history Broadway has been a hub of vaudeville, minstrel shows, burlesque, and plays. It's always been a street of performers and performances. Broadway didn't get the nickname "Satan's Circus" by being cute and fuzzy. In the 1920's, Broadway offered an entertaining escape from the drudgery of everyday life, and added spice to an already bustling city. Broadway plays were marked by the handsome stars and the beautiful starlets that graced the golden stage nightly. 

In a way that no other show, on or off Broadway, Broadway breathed desire, lust, and sex. In the writer E.L. Doctorow's opinion, Broadway gave us the first true sex symbol, Evelyn Nesbit. The lover of famous architect Stanford White (who would end up dead, shot in the head on the roof of Madison Square Garden, by Nesbit's husband).
Other lusty beauties like Louise Brooks and Clara Bow graced the stages of Broadway, building a celebrity culture previously unknown to American society. Broadway plays created a "You can look but don't touch--unless you're rich" mentality to the performances.
Brooks and other beautiful young women became the sex objects of millionaires, sports and movie stars. For the right price these rich and influential men could buy the affection of the beautiful sirens of Broadway.
In the 1920's, Broadway was the creative outlet of a nation just recovering from the "War to End All Wars". American life was good, so it seemed, the economy was booming, sports were popular, life was fresh and full of promise. 

Broadway's Dirty Little Secret & The Rise of the "Gold Digger" 
Broadway gave the illusion that life was full of romance, beauty, and excitement. For many this was true, but for most it wasn't.
Many shows that ran during the 1920's were written by Irving Berlin, who wrote "A Pretty Girl is Like a Melody" starring Eddie Cantor and Bert Williams, both who dressed in black-face for the role.
Another huge writer of early Broadway hits, was Avery Hopwood who wrote The Gold Diggers, a tale of women who "dig for success" meaning a woman tricking a rich man into marrying them. But the woman still has a heart of gold.
No one would ever accuse these early plays of being full of meaning and depth, they were mainly Follies as the billboards pointed out, yet throughout the twenties a long string of plays like Showboat were prime examples of this thype of play.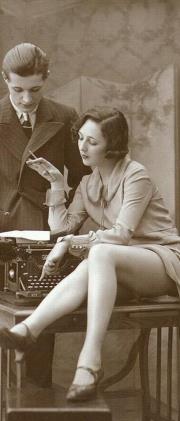 ---