Ralph Lauren's 1920s Style Tribute: The Great Gatsby Inspired Fashions 

Ralph Lauren Does 1920s Style & Daisy Buchanan: The Original "American Girl"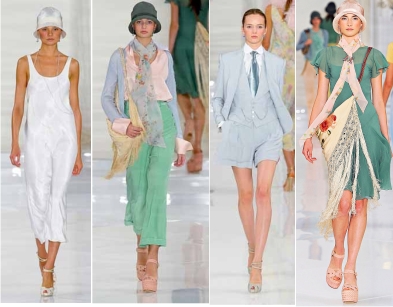 Ralph Lauren's 2012 Collection, with reverence to 1920s fashion.
The latest news has famed fashion label, Ralph Lauren releasing a Great Gatsby inspired Spring-Summer line for 2012. 
This line pays beautiful homage to the 1920s
The pastels, the cloche hats, the male suit inspired pants and jackets, the ostrich feathered shawls, and the ivory white outfits harken back to Daisy Buchanan's closet in 1925. 

The outfits are all about the lines, colors, contrasts, and flowing fabrics of the 1920s. Classic colors like coral, seafoam, robin's egg blue, ivory white offset the 1920s inspired, yet modern necklines and hemlines.
Pinstripes mark some of the male inspired outfits, like a cute off-white shorts and blazer outfit featuring a buttoned vest, a narrow blue tie, and a rounded point collar blue and white dress shirt reminiscent of a traditional man's business outfit.
Another double breasted suit was cut from the same cloth and featured billowing pant-legs, a pink tie, collared shirt and modern heels. The more feminine dresses evoked those of Madeline Vionette's famous bias cut dresses which clung alluringly to the models' hips and thighs.
Most of the models wore platform wedges and 5" heels, both are modern and add a sexy flair to the more demure vintage 1920s shoes.
The overall impression I'm left with, after viewing Ralph Lauren's 1920s inspired collection, is money, these were not the clothes of regular women in the 1920s. These clothes whisper of mansions, and motorcars, bygone years of American elegance.

Ralph Lauren loves American motifs, and the flapper is the first true "American Girl"
Like the Great Gatsby, these clothes are those of people with money.

2012 was a celebration of 1920s style
But this collection doesn't make these clothes seem out of reach, they have a distinct 1920s quality to them, but also remain very modern and "everyday" for a bold woman with a sense of identity.
It's ironic that Ralph Lauren helped costume the 1974 version of The Great Gatsby and this collection is due for release prior to the new Baz Luhrmann version. Luhrman's wife is famed fashion designer Catherine Martin.
This is exciting for all vintage lovers because as we know the 1920s style was the worlds introduction to modern style. . . and in related news, The Great Gatsby starring Tobey Maguire and Leonardo DiCaprio has begun filming in Australia, and is set for it's 2012 release.

1920s Style & The Great Gatsby Fashion Through the Years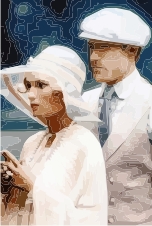 Robert Redford & Mia Farrow in The Great Gatsby (1974)
Gatsby has been made three times for the silver screen, once in 1926, 1949, 1974, and in 2000 it was adapted by A&E for a television movie.
This film will outclass them all, with other period films fashion lovers will be delighted by the historically accurate clothing, and with a $126 million dollar budget obviously the costume department will cut no corners. Plus it's going to be shot in 3D, which is exciting.
Other movie adaptations of F. Scott Fitzgerald's famous 1925 book have been beautifully costumed. Especially the 1974 version starring Robert Redford (Jay Gatsby) and Mia Farrow (Daisy Buchanan) was wonderfully shot and Theoni V. Aldredge won the 1974 Academy Award for Best Costume Design (The film also won for Best Music).
All in all 2012 is shaping up to be a wonderful year for the 1920s, Ralph Lauren, and The Great Gatsby. 

---
Go to the top of our
1920s Style
Page