The Golden Age of Competition: 1920s Sports
The Roaring Twenties are famous for many things, one of the most often forgotten is 1920s sports. 
"I have only one superstition, touch all the bases when I hit a home-run."
-Babe Ruth 

It was a new era of heroes and goats.
From the Black Sox scandal of 1919, the historic home runs records of Babe Ruth, player Red Grange and coach Knute Rockne's domination in football, Jack Dempsey's vicious knock-outs, and Man o'Wars brilliant races, the sports of the 1920s have become legendary to fans around the world. This was "The Golden Age" of sports in America.
Newspapers turned sports into an American pastime and gave relief to an American public searching for some relief after the atrocities of World War 1.
Sportswriters became the character delivering the news to a public that couldn't get enough. 

Baseball "America's Pastime"
Babe Ruth owned 1920s sports. He was the hard drinking, hard swinging hero of the Yankees' "Murderer's Row".Along with Lou Gehrig, Ruth put together one of the most impressive baseball careers of all time. 
Babe Ruth & Lou Gehrig N.Y. Yankees
And he did it in an era before television, steroids, free agency and million dollar contracts. This quote from W.O. McGeehan, 

"Babe Ruth with his bat pounded baseball back into popularity [after the Black Sox scandal]. He swings with utmost sincerity. When he hits the ball it goes into wide-open spaces. When he misses, he misses with vehement sincerity."
-W.O. McGeehan
"The Babe" embodied the spirit of 1920s sports, and The Roaring Twenties. In his day, he was revered as a hero in the streets of New York and played the perfect spoil tot he straight-laced nature of his New York Yankee teammate, Lou Gehrig. 

1920s Sports':

 

Football
Red Grange #77 The Greatest 1920s Sports Star?
Halfback Red Grange and Notre Dame coach Knute Rockney, led football bravely into a new era. College football was wildly popular, thanks in large part to many young men and women entering Universities in post-war America.
College football made money, profiting 21 million dollars for the Universities every year. Grange played for the University of Illinois and was known as "The Galloping Ghost" because of his uncanny ability not to be tackled. His elusiveness, size and power won him the honor of the "Greatest College Football Player of All Time" 80 years after he graduated from college.
Here's how Red Grange's running style was described: 
A streak of fire, a breath of flame Eluding all who reach and clutch; A gray ghost thrown into the game That rival hands may never touch; A rubber bounding, blasting soul Whose destination is the goal.

1920s Sports':

 

Boxing

The 1920s was owned by boxer Jack Dempsey. He, like Ruth, embodied the spirit of the Roaring Twenties with his bare-knuckled upbringing in Colorado and the way he would soak his face in brine to make his skin leathery and chew pine gum to strengthen his jaw.

Dempsey headlined the first million dollar gate at any sporting event in 1921, when he defended his World Title against George Carpentier. Dempsey was known for the amount of power in his menacing right hand, strengthened by the years he spent as a miner in Colorado.

Jack Dempsey Blue Collar Legend
1920s Sports':

 

Horse Racing
Man o'War was the unquestioned king of the horses, winning races by an absurd margin of 100 lengths. In his career "Big Red" as he was known, won 20 of 21 races he started, losing only to a horse appropriately named "Upset". 

He never won the Triple Crown because his owner felt he was too young to run a Mile and a quarter track. He spent 22 years at stud and sired his own Triple Crown winner, War Admiral.
Man o'War is widely regarded as the greatest racehorse in history. 

1920s Sports':

 

Tennis

Before John McEnroe graced the sport of tennis with his dramatic antics on the court, there was "Big" Bill Tilden of the 1920s. Known for his flair, his antics, the dramatic way he played the game. Bill Tilden was an actor on the court as much as he was a player.

He was so self-absorbed he even bankrolled plays, with him playing the lead character, of course. His matches were often dramatic because he played poorly to make them seem more exciting than they needed to be. He would often leave his sweater on for a few games, then take it off to make his fabulous comeback. Tilden was one of the forgotten characters of 1920s sports.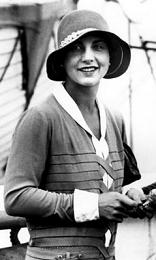 Helen Wills after winning a chamionship
Helen Wills was one of the first female 1920s sports stars. She won her first title in 1923, when she was 17 years old.
She was the spoil to Tilden's expressive and dramatic nature, Wills was known as "Little Miss Poker Face" because of the business-like way she played the sport. 

1920s Sports':

 

Swimming
The 1920s was known for it's strange stunts like flagpole sitting, and barnstorming. When American, Gertrude Ederle swam across the English Channel in 1926, she not only became the first woman to do it, but her time of 14 hours and 31 minutes was nearly 2 hours faster than any man had ever completed the feat. 

At the time, Ederle's feat was known as "the greatest sports story in the world." 

1920s Sports': Golf
efore Tiger Woods, Arnold Palmer, and Jack Nicholas created their legends, there was Bobby Jones.
In the span of 8 years, Jones won 13 national championships, both in Europe and the United States. He was the original hot headed golfer, known to either play brilliantly, or to implode on the course. When playing poorly he even, at times, picked up his ball and quit.
Despite his temper Bobby Jones became an idol for the American public which loves his sense of style, his fearlessness in playing golf shots impossible to anyone less talented. 

In the Golden Era, 1920s sports were still in their infancy. While still big businesses, sports had a sense of innocence that was starting to show its cracks, case in point, the Black Sox scandal of 1919. However the legends of 1920s sports remain legends today because of the way they played their respective games.

---