1920s Mens Suits: Classic Style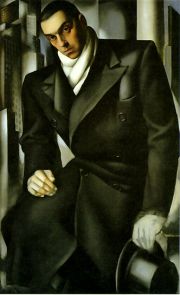 The suit is the most elegant item of clothing a man can wear. 1920s mens suits give us the perfect examples of how suits should be worn.
It's been said that men's fashion hasn't changed much between the 1920's and today, and I can't argue much with that statement.
However, the quality of clothing has certainly gone from very high in the 1920's to "hit or miss" today as the numbers of suits makers increases.
This page is all about how 1920s suits can help determine the right cut, color, fabric, and style. 

The Golden Age of Fashion
From the gangsters to the Broadway Stars, the 1920's are lauded as a golden age of entertainment, economic growth, excitement, and youth in America.
With the birth of the motion picture and the rise of celebrity culture in America, men and women became more visible in the eye of the media and adoring fans around the globe.
While women's fashion underwent emmense changes in its form, the changes to men's suits were more subtle. . .
Higher, "nipped-in" waisted coats were exchanged for more defined shoulders and less taper to the suit's waist.
This gave men a more masculine silhouette and helped set the rules of men's suits. With very small changes these remain the accepted international "rules" by which tailors still cut their patterns. 

---