Vintage 1920s Dress: Bring Back the Glam
It seems like every beautiful celebrity lately has been wearing a 1920s dress! 
Have you seen the pictures of Kate Moss at the Swarovski Crystals Fashion Rocks concert and fashion show?
She wore a replica flapper style dress, bedazzled in over 60,000 luxurious Swiss crystals! What was really cool was Moss auctioned her dress off for charity on eBay.
The dress, worth more than a brand-new Mercedes S-Class luxury car, sold for the price of a 1999 Toyota with 150,000 miles on it. . . unbelievable!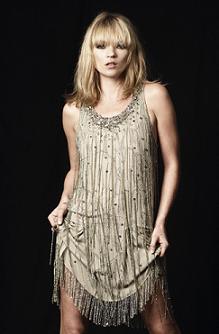 The beautiful Kate Moss in her 1920s flapper inspired dress
Obviously, you can find some great deals on beautiful vintage dresses on eBay.
So whether you're a lady who wants to look great for your next party, or you're a fashion collector (like me), you can find exactly the dress you're looking for.
Registering and making your first bid might seem a little intimidating, but in actuality it couldn't be easier.
If you've never bought anything on eBay before don't worry, it's simple to register and totally free. They walk you through the entire process from start to finish, step-by-step.
Click the eBay symbol below and search the eBay website for the beautiful 1920's dress you're looking for - I'm sure you'll find it.
Whether its Kate Moss' beautiful bejeweled flapper dress, or a stunning vintage dress worn by nobody famous (until you of course). . .
If you find the perfect dress, please take a picture of yourself and send it to us, we'd love to post it on the site. 

---