1920s Flapper: Brash & Beautiful
"The Brash & Beautiful 1920s Flapper Girl"
The flapper rejected the repressed stodgy Victorian world and made the world modern and exciting. 
The Twenties was a decade of individuals.
If the 1920's individuality can be summed up in one word the word is: Flappers.
In this new world expression and individuality were the most important elements of living a fulfilling and complete human life, or at least that would become the message.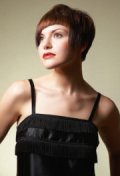 How to find the perfect Flapper Dress

Personal liberty and freedom were buzzwords for these girls. Choice was not a privilege, but a god-given right. Flappers were free to choose a career, their mate[s], their vote, their make-up, clothes, sexuality--their destiny.
1920s flapper fashions were a new-found byproduct of a changing world, with many social elements merging together all at once in the fashion and the flapper culture itself.
Coco Chanel led the charge into modernity with her stripped down dresses, women's athletic wear, heavy "masculine" fabrics, the "let go" waistline, and rising hemlines.
Flapper Style: Lasting Social Change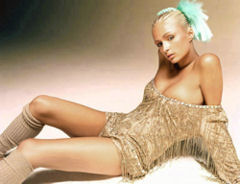 Paris Hilton in Modern Flapper Style
Taken out of the steel cage of the crinoline, unbound from the corset, and uncovered from their layers of petticoats, women were no longer made physically and socially helpless by the clothes they wore. 

On A Cool Day In France. . . The 1920s Flapper Was Born
Flapper fashion is said to be born of chance on a cool day in France when Chanel put on an over-sized man's sweater and tied the waist with a scarf.
It's said she sold 10 of these fashion concoctions when she wore the outfit out in public, and the Chanel frock was born. Chanel's fashion movement made women's clothes wearable, fashionable, durable, and sexy.
These were dresses designed for the "New Woman" of the 1920s - the flapper. Ironically, the flapper's individuality may have been a product of a good marketing and advertising campaign more than it was a organic social movement toward self-expression and a revolt against old-fashioned culture.
Be that as it may, 1920s flapper fashion has shaped the face of style forever. 
---